ABOUT OUTLOOK DATE STAMPER
Outlook Date Stamper is a simple utility for personal use designed as an add-on solution for Microsoft Outlook. It allows you to add the date and time to the body of an email message or to any Outlook item that contains text field as well as to customize the configuration of date and time.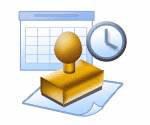 We would also like to extend a special "thank you" to our numerous customers in the USA, United Kingdom, Australia, Belgium, Germany, Switzerland, France, Singapore, and other countries who implemented our programs for their everyday business needs - from personal and family use to Medical and Law Offices, Religious Services, Technology and Software production companies.

Copyright ©2007 4Team Corporation. All rights reserved.

Outlook Date Stamper website
Version 1.00.0035